The Scottish Rugby Varsity Match
Grab your FREE tickets now for one of this years most anticipated
sporting events!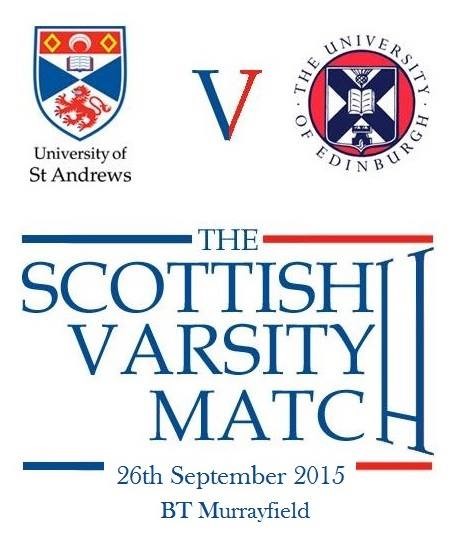 The Scottish Rugby Varsity Match is coming home!
Revived in 2011 after a hiatus of over 50 years and played in front of thousands of spectators The Scottish Varsity Rugby Match between two of Scotland's most historic Universities sees the players of the University of St. Andrews RFC and Edinburgh University RFC take an age old rivalry at Murrayfield Stadium later this year.
The contest (which dates back over 150 years, even predating the Oxford vs Cambridge Varsity game played at Twickenham) offers everyone a fantastic afternoon out to celebrate rugby at the National Stadium.
Not only will both 1st XV's lock horns for the trophy but both club's women's, 2nd XV's and 3rd XV's will be playing on the day too.
All staff, students, alumni, supporters, friends and family are welcome to attend the game which will take place at:
BT Murrayfield Stadium
Saturday 26th September 2015
from 3.00 p.m.
To get your FREE tickets please register on Eventbrite before
Friday 18th September. (Please bring your printed tickets with you on the day).
From Saturday 19th September, tickets will be available for £5.00 online or at the turnstiles on the day.
http://www.eventbrite.co.uk/e/the-scottish-rugby-varsity-match-tickets-17440468912